Real Stories From People Who Met On Datisy
Scott Max & Rachel
I had been using Datisy for about two years, I only had about a hundred matches. When I looked at Rachel's profile, the picture of his enormous library really caught my eye! I love books, so the fact that he owned even more than I did was what really influenced my decision to swipe right on him.
Michopiss & Jaxon
" I was an underprivileged college student who mostly used the Datisy dating site. The date would occasionally go well, and we'd meet up again and hook up a few times, but most of the time the guy (and I) weren't looking for anything serious. That's how I met Michael; after a successful Datisy,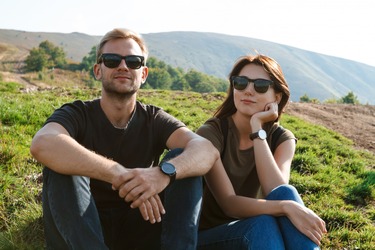 Anthony & Tonya Sherman
"We met on the Datisy Dating web page because I thought she was attractive, we shared a few friends, and we were both lawyers, so I assumed we would get along well. When we first started talking, it became quickly apparent that we were a good fit and shared a similar sense of humour.
Datisy: Your one-stop interface for finding your perfect match
Have you ever tried an online dating site before, to find your ideal match? Tried, but the search sustains, finding yours? If so, fret not! Datisy overview is there for you. A well-known platform for online dating where you can find a match based on who you really are and what you love.
Datisy understands that in today's world, finding the perfect match can be a challenge or overwhelming. However, due to the vast sea of available online dating platforms, the process can be simplified. But choosing one that can be your bridge to connecting with someone special can also be confusing. So, with an extensive user base and powerful tools to help you find your ideal match, Datisy is here to be your love guru.
Furthermore, if you are interested or curious to know more about Datisy, then dive into the further sections of this read below. And I'm sure that this will definitely hit a sweet spot for you.
Glimpses of Datisy:
Datisy is specifically designed for singles who are struggling to find their match. Our platform is dedicated to helping people find love and happiness through meaningful connections.
Take a peek at the Datisy Overview below.
Every user profile is created by an individual like you, ensuring that the connections formed are based on respect and trust.
Beginner-friendly or easy-to-navigate interface, making the process of online dating a seamless experience for all singles.
Meet people of many ages, races, and religions on Datisy.
A major strength of Datisy is its diverse user base. Whether you are looking for a serious relationship or a casual relationship, this platform helps you in finding a perfect match.
Advanced search filters and algorithms for tailored matchmaking.
Every 53 minutes, a new chapter of love unfolds by connecting hearts through virtual dates.
What makes online dating in Datisy different?
Choosing Datisy means opening up more opportunities for a meaningful and trustworthy relationship. By leveraging the technology, Datisy provides a place where real relationships are built and makes it more than just a dating platform.
Here's why Datisy stands out to be your Love Guru-
Diverse user base: With a diverse user base, Datisy connects quality singles of various ages and religions throughout the world.
Anonymous registration: To create an account on Datisy, you just need a sign up through your Google account.
Enriching Experience: Over 15,000 match founders make a unique and enriching experience.
Gender Ratio: Datisy has a balanced gender ratio profile of men about 47% and womens about 53%.
User safety: When it comes to security, Datisy prioritizes user safety and ensures a safe and secure environment for all of its users.
How to Create your profile on Datisy?
Creating a profile on Datisy is your first step toward fulfilling your need to have a match with a quality single just like you. All you need to do is navigate through an easy-to-use interface, add details about you to describe who you are and complete your user-profile creation by following the further on-screen instructions.
Here's how you can create a profile to showcase your personality on Datisy-
First, open your Google Chrome or any other favorable web browser.
Head to Datisy website.
Click on the "Register/Login" tab located at the top right corner.
Next, you will be able to see the "Create a profile" section.
Now, Enter your name and location in the first and second text fields.
Set your date of birth and select your gender.
Add your phone number (optional) and email ID.
Finally, once you set your username and password in the given text fields, hit submit to complete your Datisy account creation.
Complete your datisy profile to grab the attention of someone-
First of all, click on the "My Account" tab, located at the top right corner.
Scroll down, and in the "About me" section, describe who you are. In this step, don't forget to add your interests and hobbies for more positive results.
Click on "Checkboxes" to set your objective of creating a profile on Datisy.
Add your appearance details, including your height, weight, hair color, or more.
After adding all the details that you want to showcase in your profile, click on "Save."
In the last step, click on the "Photos" section and upload your best photos that could be eye-catching for someone.
How to find your Perfect Match on Datisy?
Once your Datisy profile is a reflection of who you are, finding your ideal match is easy and straightforward because of the easy-to-use interface.
First, select for whom you are looking for a "Man" or "Woman."
Next, adjust the slider according to the age of the partner you are looking for.
Set the location and click on "Search."
Explore profiles of users based on the location you accessed. And when you like any profile, click on it.
Review the complete profile of the user, and if you find that he/she is that one special you are looking for, then hit the "Add a friend" button.
Once he/she accepts your friend request, you can start your conversation with them through chat and get a chance to make them yours.
Final Verdict!
Datisy offers the convenience of online dating for connection and compatibility. As you search for the best online dating interface, let Datisy be your Love Guru to help you in getting the perfect partner you are looking for or wondering about.
Datisy is more than a dating website that offers interactive space that enhances the process of connectivity. Whether you are a newcomer to exploring online dating interfaces or an experienced user who is disappointed by other online dating sites and in search of the best dating platform. Datisy offers a wide user interface that helps you find the perfect partner or friend you are looking for.
So create your profile now and let Datisy be the bridge to your next meaningful relationship.